U 8
U 9
Training Times:
Thursday from 6-7PM
Match Times:
Playing go games every Saturday morning, alternate weeks between hurling and football
Mentors:
Rob Nolan
0830416473
Ruairi Hayden
0876371286
U10
U 11
More Info
Our under 10's team are on the second step of the ladder having graduated from the academy 2016.
We have continued to build on the skills they learned whilst in the Academy along with maintaining the fun side of our sport. We have over 40 dedicated players who turn up week in and week out and in all weathers to play our wonderful sport, we continue to welcome new players into our team and some of whom are new to Gaelic football and hurling.
Every week we have 3 teams playing non-competitive games (try telling the kids that!). We alternate between Gaelic Football and Hurling and every week when they put on their Naomh Mearnog jersey, kindly sponsored by Mc Hugh's Restaurant in Portmarnock, they represent our Club with dignity and honour.
We train every Thursday from 6pm and Saturday match are scheduled by the county board and they alternate between home and away and usually kick-off at 10am.
Our under 9's team is fully inclusive and all kids play irrespective of abilities and we strive to make sure all our player enjoy the games, you are never too young or too old to get involved and we welcome any new players or mentors who would like to get involved.
Training Times:
Thursday from 6pm
Match Times:
Saturday usually kick-off at 10am
Mentors:
Brian Harris
086 773 3454
Derek McKeever
U 12
More Info
Our new batch of hurlers have all the skill in the world and are having a ball learning the skills of this great game!
As mentors, we are focused on creating an environment were all the boys enjoy playing hurling, feel part of the team and have loads of fun along the way.
We have games on a Saturday morning at 11am and follow U11 go game rules
We are always looking for more players so please contact us on the details above if you want to get involved and have some fun!
Training Times:
7pm Tuesday and Thursdays
Match Times:
Saturday mornings at 11am
Mentors:
James Nugent
087 909 9939
Karl Hogan
086 191 6611
Liam Byrne
086 836 1101
Mark O'Donnell
087 233 0464
Luke Brennan
086 4681374
U 13
More Info
Players born in 2007
We have two teams and train football and hurling each week.
New players are always welcome.
At Naomh Mearnog we offer both football and hurling training and matches.
If a player would only like to play one code contact relevant mentor above.
Training Times:
7pm Monday and Wednesdays
Match Times:
Matchs are played on Saturday afternoon, usually between 1.30 and the 3pm
Mentors:
General Enquries
Robert Mc Namee
086-2583331
Hurling Mentor
Steven Rafter
086-6063982
U 14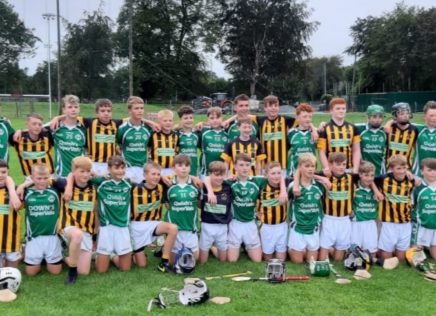 More Info
We have 26 boys playing hurling in Division 2.
We continue to learn the skills to progress with a sense of achievement and fun.
We train twice a week and play matches on Saturdays.
We would love to see any child born in 2006 at either the training or matches.
Division: 2
Training Times:
7-8pm Tuesday & Thursday
Match Times:
Approx 1.30 / 3.00 Saturdays
Mentors:
Dave Aston
086 0508508
U 15
More Info
These talented bunch of players are destined to be superstars of the future. Incredibly dedicated, numbers are always healthy for training and matches. When the team plays matches each Saturday morning they are the talk of the parish for the rest of the weekend. They train twice a week at 7pm on Monday and Thursday. There is plenty of spare jerseys for any boys born in 2005 who fancy having a go!
Division: 3
Training Times:
Training Mon 7-8 
Thursday 7-8
Mentors:
U14a (div 3)
Aidan Mullin
087-2676404
Brendan Kennedy
087 9572638
U 16
Training Times:
Tuesday 6-7
Thursday 7-8
Match Times:
Saturday
Mentors:
Dave Madden
(087) 248 3978
Minor
More Info
The minor Hurlers are looking forward to another successful season ahead.
Please contact Dylan Kilbride for more information about this team.
Mentors:
Dylan Kilbride
086 152 4605