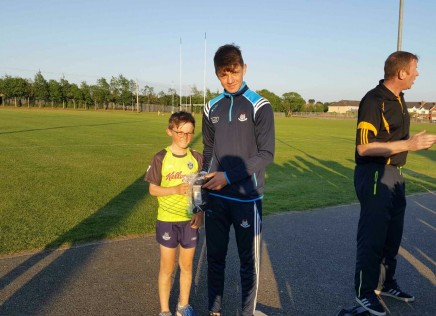 On a beautiful summer evening our Under 12 boys assembled to undertake their Ball Wall Challenge.  After many weeks practising the objective for this dedicated group was to see how many times the squad could strike the ball wall in 60 minutes.
Once the whistle sounded the boys were off, one player at a time striking for all they were worth.  With over 25 boys taking part the mentors were frantically counting and hopeful that this eager bunch would reach the target that was set for them of  1,000 strikes in 60 minutes. As the clock counted down the hour the pace quickened, with some fantastic striking and catching on display.
After the final whistle the numbers had to be sent to NASA to calculate how many strikes the lads got.  When the results came back there was a massive cheer when it was announced that the boys achieved 1133 strikes in the hour.
The lads were delighted to see the clubs Under 17 Dublin hurling star Tommy Kinnane arrive up to present prizes to the winners of the most strikes and the most improved.  Congratulations to Evan, Joey, Conor, Eoin & Darach.
A big thank you to everybody that purchased a line supporting the Ball Wall Challenge the 3 winners will be receiving their prizes shortly. It was great to see so many up to cheer the lads on in their challenge.
Afterwards it was upstairs for the BBQ and some well earned refreshments for all.