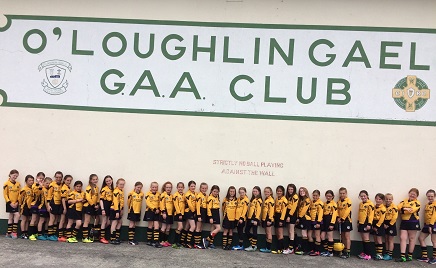 Our u11 and u13 camogie girls headed for Kilkenny on Saturday last.
Meeting before 8 a.m. suited the girls, if not the parents!
The girls were presented with special commemorative t shirts by Fergal Madden, kindly sponsored by his company, Madden Property consultants. The girls are photographed above in their very striking gear. Special thanks to Fergal, a staunch club supporter and former player.
52 girls jumped on the bus and sang their hearts out all the way to Kilkenny. Versions of old and new songs, improvised raps and dances kept us all in stitches. We hit Kilkenny at 10 and our teams played against the local girls from the famed O'Loughlin Gaels. Special prize to Niamh and Shauna, who took on the challenge set by Paddy Gorey when he saw us off at the club. Yes girls, we all know who "Gorta" is now!!
After the series of games, we got stuck in to the very serious business of downing tablefuls of sandwiches, buns, biscuits, and drinks, before heading north by bus to Clara Lara fun resort. Rain on our arrival only added to the fun. Wet from rope jumps, pole walks over water and boat and canoe trips. Check out some of the pictures. Yes, some of the girls dropped the oars, and pushed and swam with the boats! More rallied around in stock cars. Others crazied their way around the mini golf. And as for the water slide…….pure terror for some (adults!).
We travelled on from Clara Lara and sat down in the Vale of Aherlow hotel for dinner. Back on board the bus, we finished with the last few songs, and arrived back to the club for 8.30 pm, tired but exhilarated, where we carved up Maureen Gleeson's specially made cake (the picture above shows us tempting Tony Larkin with it earlier in the morning, but he reckoned the ground force lads were sweet enough already!).
What a day!