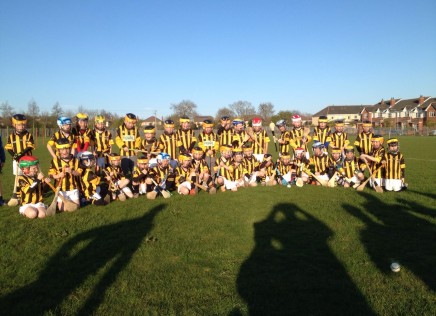 Following on from the hugely successful mini leagues the previous week, where we had nearly 60 boys partaking in games of football and hurling, our four u8s teams got back to what they do best and that is playing matches for their club!
This week our Green team was playing away to St Monica's while the Red, Yellow and Blue teams were at home to Scoil Ui Chonaill. It was Football this week and all the boys arrived bright and early to a sunny Páirc Mhearnóg looking the part in their black and amber club colours. It was great to see plenty of parents in attendance too and while the coaches sorted out the last few pre match tactics, the lads had a kick about and practiced shots on goals. Before we knew it, it was time for the Green team to head off to St Monica's of Edenmore while the home teams welcomed the away team.
All the matches had a simultaneous 10am kick off. The pitches were hard and dry which allowed for a fast moving game of Football. This was perfect for our boys who over the season have developed great skills in running with, kicking and passing the ball at super-fast speed. With great excitement from the side-lines the referee blew his whistle and threw the ball in to start the matches.
Straight away Mearnóg were on the attack in both games and with some fantastic inter-play between the mid fielders and forwards, we were on the scoreboard and looking every part a top football team. Before long, and to give them credit, St Monica's and Scoill Ui Chonaill began to apply pressure and gain some forward momentum but to huge roars of encouragement from the side-lines, the Mearnóg defenders were doing Trojan work in closing down the opposing attackers. There were some great blocks and fantastic clearances and before we knew it, Mearnóg were on the attack again. It was breathless stuff and the half time whistle came just in time so the boys could take in much needed water and a well-deserved breather.
The second half of both games were even faster, if that's possible, with end to end action in both games. All the while our U8s kept the scoreboard ticking over with some great points and well taken goals. At the final whistle, there was a huge roar from the supporters, our U8s had done us proud again. As our players shook hands with the opposing teams and congratulated them on a good game, it was clear for all to see that the club's future is in very safe hands and that the boys had earned a well-deserved treat in the club shop and a MaFlurry ice cream for the away team who stopped off on their way home!