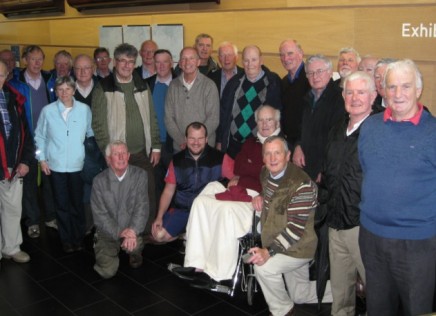 A group of 34 took part in the outing, which consisted of two guided tours. The group was collected by coach from Pairc Naomh Mearnóg at 10.30am. The first location was the Botanic Gardens. The group was divided into two smaller groups and taken around the Palm House and other tropical and alpine gardens before taking a break for lunch.
One of the group, Joe Reale, who was receiving treatment nearby in the Bons Secours Hospital, took advantage of the closeness of the outing and asked his son to take him out in his wheelchair to meet up with his friends.
There is now a walkway between the Gardens and the Cemetery, so we strolled through to the interpretative centre, where there is an impressive museum with artefacts, touch screens and guides. The highlight was a powerful re-enactment of Padraig Pearce's oration (with actor in military costume) at the graveside of O'Donovan Rossa.
Afterwards we ended back in the clubhouse for soup, sandwiches and craic.
Sadly, Joe passed away three days later. He was a great member of the Social Initiative and Ground Force Teams. It was wonderful that we all got that opportunity to meet with him. He is sorely missed.