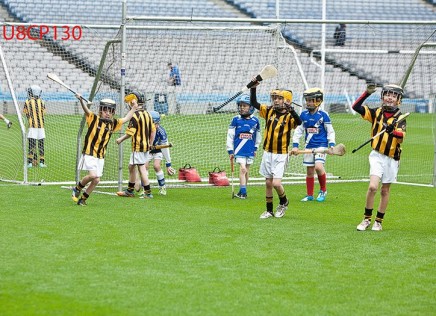 Our U-8s had a brilliant day in Croke Park last Monday, they showcased all their skills and collected the silverware that was on offer, great sign of things to come!
It was a very bright and early start (7am meeting) for the Naomh Mearnóg under 8s last Monday. A big match ahead in Croke Park softened the blow though for the kids, and their parents!!
Everyone was in mighty form and there was a huge air of anticipation around. The lads were all smiling, excited but with very determined looks on their faces. This was a day they would remember for the rest of their lives! The craic was mighty on the double decker bus and despite the rain there was no room at all for dampened spirits! All the talk was about the match, tactics and plans about how to beat the opposition!
After a brief rest in the stands where the coaches put their last minute strategy together, the lads went into the dressing rooms and warm up area under the Cusack stand to do their last minute preparations. This was their U8 All-Ireland Final! Nerves were beginning to jangle but once they got their team photograph taken it was all systems go!
Both teams were exceptional in their level of performance throughout the 2 games of hurling which were played simultaneously. One game against Round Towers Lusk and the other against Commercials Hurling Club. The amount of quality score taking, team work, tackling and great sportsmanship on display was second to none. The big crowd at the match of parents, friends and family were overheard on a number of occasions saying they had never seen teams as good as this in Croke Park, on a Monday morning! Every boy played his part and were brilliant representatives of their club and parish. They are a credit to themselves, their club and their families.
There was no doubt that their high level of performance deserved the 2 victories they secured! All that was left to do was lift the cup in the Hogan Stand and take the happy trip home to Aras Naomh Mearnóg where the team got some well deserved snacks to send them on their way. As mentors we are extremely proud of how the boys performed and behaved on the day. Well done lads and hopefully we will all be back playing and coaching in Croke Park at some point in the future! It was a day to remember forever more…
Thanks to Simon Archer for the use of the images for this post, there are more photos from the day on Simon Archer Photography's Facebook page