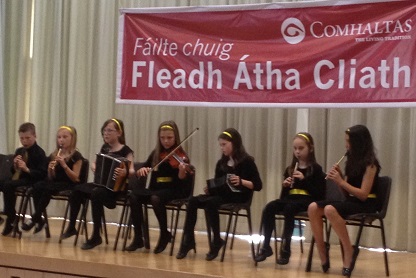 Our Musical wing, Comhaltas Port Mearnóg had a hugely successful weekend last week. Our Comhaltas branch is in existence for less than two years. The majority of our members who participated in the Dublin Fleadh Cheoil over last weekend have been playing their instruments since the branch was set up!
Our adult Grupa Cheoil were first in to action on Saturday morning. They thrilled us, and a packed hall with a ten minute selection of tunes. A little bit of experience (we won't name the few "old hands" in the Grupa!) and a large amount of class and enthusiasm from our fledging musicians bore rich fruit, and they walked away with second place.
Next up were our juvenile grupa cheoil. Check out the picture above! Our own Magnificent 7! Months of practice brought out a thrilling performance from our girls and guy, and they raised the roof!
Sunday brought the individual competitors and the duets. A magnificent gold medal from our own Déirdre NÍ Mheachair  in the adult fiddle, and two silver medals in the adult singing for Lughaidh Fisher! What a day! What a weekend!