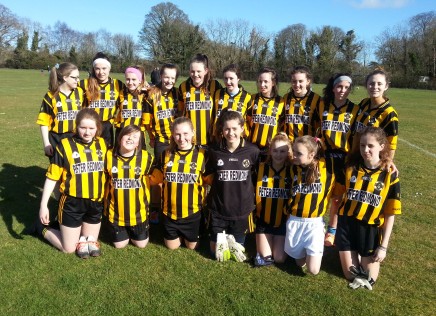 Naomh Mearnog Under 15 girls continued their onward march to league honours as they beat Cuala on a scoreline of 5-12 to 1-5. This was the girls sixth victory in a row and this was achieved without the services of star midfielder Ciara Holland.
Playing with the breeze in the first half we were fast off the blocks with two excellent points followed by a goal but we were immediately pegged back when Cuala scored a goal, their only score of the first half. We continued to pile on the pressure and added a further 2-6 before half time leaving the half time score at 3-8 to 1-0.
In the second half we controlled the game and added a further 2 goals and 4 points. The highlight of the game was the scoring exploits of Rebecca Cooke who ended the game as top scorer with a hugely impressive 4-3.
This was a very good performance and with Katie Flanagan in fine form in goal and our fullback line of Amy Kavanagh, captain Hannah Collins and Rosie Doyle in no nonsense form we were seldom threatened. With our half back line of Niamh McLernon, Ruby Smith and Megan O'Connor launching continuous attacks there was no respite for the Cuala girls. Maria Kelly and Orlaith Freaney were dominant in midfield and supported our forwards at every opportunity. The half forward line of Claire McGowan, Emma Tuthill and Tara Daly were buzzing all over the place and with Ella Griffen sweeping excellently and firing over two great points we were in control. Leah McElroy was excellent at full forward and her passing was delightful as she combined sublimely with Rebecca Cooke who was surely player of the game. Jessica Burke came on and contributed excellently in defence as well as attack and Ellen Daly done really well when introduced in attack. Niamh Browne, Leagha Ogilsby and Ella Greene were also excellent when introduced and the squad continues to go from strength to strength.
Scores: Rebecca Cooke 4-3; Leah McElroy 1-2; Claire McGowan 0-4; Ella Griffen 0-2 and Tara Daly 0-1.
Panel Katie Flanagan Amy Kavanagh Hannah Collins (capt) Rosie Doyle Niamh McLernon Ruby Smith Megan O'Connor Maria Kelly Orlaith Freaney Claire McGowan Emma Tuthill Tara Daly Ella Griffen Leah McElroy Rebecca Cooke Jessica Burke Ellen Daly Leagha Ogilsby Niamh Browne and Ella Greene.