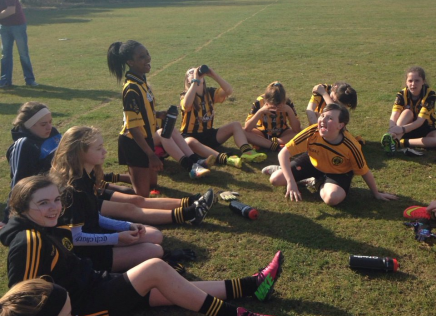 The U14 ladies football team took on the league leaders in a hugely enjoyable and very competitive match on Monday evening. In horrible conditions with a swirling wind and rain both teams served up a classic on the all-weather pitch.
Templeogue Synge Street settled quickly, and set about building a lead with the advantage of the elements and took some fine scores. At half time the lead looked to be unassailable at 0-01 to 4-04.
However, the second half was a different story. Captain Ruby Smith could be heard urging the team to greater effort and after some positional switches the Portmarnock girls ripped into the match. The full back line lead by Sophie Brennan got on top. Smith, Ciara Mullen and Emer Kenny won their battles in the half back line and Maria Kelly and Ella Griffin after shipping a very heavy blow in the 1st half dominated centerfield with Kelly's power and Griffin's skilful play now to the fore.
The scores started to flow, Rebecca Cooke's darting runs brought her 0-4, Griffin with an excellent point, two quick goals from Rosie Doyle and a fisted one from Carla Brogan narrowed the gap to 4pts. T S S were now in trouble but just managed to keep their noses in front with breakaway scores. The subs came in, Ellen Daly in for the lively Niamh Browne and Roisin Hughes looked dangerous with Aoibheann Crean Lynch and Jessica Burke offering good support.
Ella Greene in goal, kept her side in the hunt with two fine saves, tipping one over the bar brilliantly. Although quite, Alexandra Kenny and Florence Okojoie were also very effective at this point.
With the game now up for grabs we saw Kelly take off on a powerful run, brushing by several tackles and driving an angled shot to the bottom left corner of the net for surely one of the best goals scored anywhere. Unbowed the southside girls responded with another goal. Having left her full back position, Brennan now operating in the forwards received possession on the "45" advanced  and unleashed a rocket of a shot off her right foot to the top left corner of the net drawing gasps from both side lines. Goal of the season! Alas, it was not to be as T S S finished the scoring with 1-1 in the last minute. The referee complimented the girls on a tremendous fight-back.
Final Score: Naomh Mearnog 5-07 T S S 7-08
Lineup: E.Greene, A.Kenny,S.Brennan(1-00), F.Okojie,C.Mullin,R.Doyle(2-00),E.Kenny,R.Smith,M.Kelly(1-02),J.Burke,E.Griffin(0-01),C.Brogan(1-00),A.Crean Lynch,R.Cooke(0-04),N.Browne,R.Hughes,E.Daly.