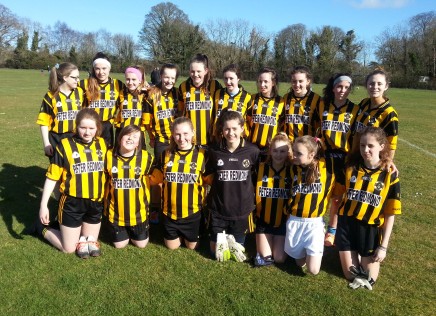 Naomh Mearnog 9-9 Naomh Barrog 4-5
The under 15 girls had a great victory today over a very good Naomh Barrog team. Played in very windy conditions the Mearnog girls raced into an early 2 goal lead which was almost immediately pegged back by Naomh Barrog. However our girls responded and after some excellent play from Tara Daly, Leah McElroy and Jessica Burke we got back on top. Strongly prompted by Ciara Holland, Ella Griffen and Maria Kelly and with some great points from Claire McGowan we finished the first half on top.
In the second half Naomh Barrog came back strongly but with Ruby Smith outstanding and team captain Hannah Collins and Megan O'Connor, Niamh McLernon and Amy Kavanagh in top form there was no way through. With Ella Griffin and Claire McGowan along with Ciara and Maria now running at the Barrog defence we got some great scores and maintained our composure at the back. With Tara Daly a human dynamo we were always threatening. We then introduced Orlaith Freaney who was unavailable to start the game and Rosie Doyle and they both added further to the team. Sophie Brennan, Caitlin Dempsey and Rebecca Cooke raced on to the pitch, Sophie and Caitlin made the defence even meaner and Rebecca scored a great goal. Ellen Daly, Leagha Ogilsby and Emer Kenny then entered the fray and all contributed very well to the victory. Our Dublin keeper Katie Flanagan showed her class on a number of occasions and when she came to terms with the tricky wind her kick outs provided us with a lot of options.
Our centre forward Emma Tuthill was unavailable today as she was participating in a gymnastics competition in Limerick while Niamh Browne picked up an injury in training.  Today's victory gave us our fifth win in the league making us the only unbeaten team in our division. We have already accounted for Beann Eadair, St Margaret's, Cuala, Skerries Harps and today Naomh Barrog.
Scores: Tara Daly 3-2, Ciara Holland 2-2, Claire McGowan 1-5, Leah McElroy 2-0 and Rebecca Cooke 1-0
Panel: Katie Flanagan, Amy Kavanagh, Orlaith Freaney, Hannah Collins(captain),
Megan O 'Connor, Niamh McLernon, Ruby Smith, Rosie Doyle, Maria Kelly, Ciara Holland, Claire McGowan, Caitlin Dempsey, Ella Griffen, Tara Daly, Leah McElroy, Jessica Burke, Sophie Brennan, Ellen Daly, Rebecca Cooke, Leagha Ogilsby and Emer Kenny.