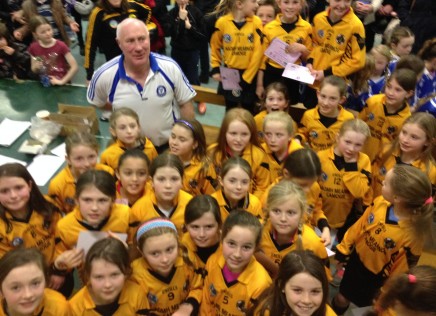 Juvenile Camogie Round up.
Gormanstown Gigs and Reels finish up in style! All the world's a stage for one of our girls! …..
Now read on!
Our u10 and u12 girls finished up their annual indoor hurling competitions on Sunday evening last.
U12s: Our u12 girls finished their six week expedition with a resounding 5-1 victory over Ratoath. The girls dominated all through. The quick pulling and keen camogie eye which these girls have developed over the last few years served them well. They finished end to end moves with first time goals to leave their opposition reeling. Ciara Mullin went stage exit left at one point. We all thought it was curtains for her when she was sent careering through the dividing curtain. She re-emerged from the upholstery none the worst, and tore back in to action.
The girls grabbed the bronze medals in their age group, which is a huge achievement given that we decided this year to bring fewer numbers to the tournament. The rostering worked well and all the girls played at least 4 out of 6 matches. Well done also to Orlaith McGarry, who was nominated as player of the tournament.
U10s: Our u10 girls knocked huge enjoyment out of their six week Sunday evening jaunts to Gormanstown College. The Sunday evening craic had to come to an end at some point, but we'll all miss the fun in the car pools en route (and the sheer sugar induced giddiness on the way home, after the girls filled up from the tuck shop to aid their post match recovery!). Yesterday evening the girls scored big wins against two Skerries selections, and against  Fingallians. Our picture shows the girls brandishing their certificates and medals. Thank you from the girls and the mentors to a wonderful set of parents who ran their car pools like an old fashioned military manoeuvre. For the mentors these were unforgettable weeks. We won't name individual girls but the quality of the striking especially from some of our newer girls was simply a joy to see. These are the days we'll remember!  Check out the pices below. They're ven one of Tina and Lorraine showing the girls a new dance (or maybe measuring the height of the girls?)
All of our teams are back in action in their leagues and go game blitzes this weekend. Watch this space for next weeks match reports!