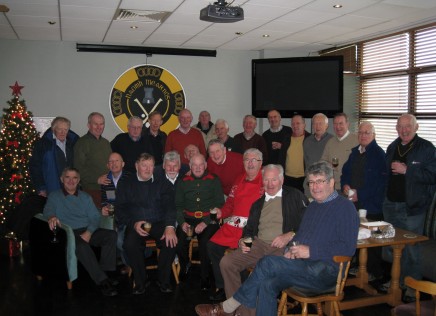 Contrary to some misconception, our Ground Force Team has nothing to do with Aer Lingus!! The Naomh Mearnóg Ground Force is part of the Mary McAleese Social Initiative for Men. Since 2010 a team of volunteers has been maintaining the upkeep of our Club facilities under the stewardship of Pat Monaghan. We are divided into four teams, each of which undertakes maintainence duties for one week on a rota basis.
The tasks in hand are many and varied : Painting, Marking, Mowing, Constructing, Tidying, Sowing, Pruning, Spraying, Weeding, Repairing, Planting, Seeding.
One essential part of the routine is the 11 a.m. break where local, national, and worldwide problems are debated and solved. It has also been known for some team members to rearrange their working schedule and down tools for a morning's golf at some nearby golf club.
All get great satisfaction in knowing that they have played a part in seeing the Club facilities in such great order and with more men retiring we now have 34 men on Pat's rota and new members are always welcome.
On 21st December at 11.00am 25 members of our crew came together in Áras Mearnóg for our Christmas party. The lads excelled themselves displaying their culinary skills. There was a great display of cakes, mince pies, smoked salmon, brown bread, etc. Pat Tobin donned his Santa apron and cooked us all a full Irish breakfast and Frank Cahill treated us to his speciality of cranberry and soya glazed cocktail sausages. Pat Monaghan and Sean Whelan cooked up a cauldron of mulled wine and Charlie Mac, ever the comedian and impressionist, regaled us with his impersonations , while he kept the hot whiskeys flowing.
Declan McConnell (Chairman Mao) thanked us all for coming, wished us a happy Christmas and prosperous New Year and rounded us up for a group photo. Declan said our next outing in the new year will be a trip to Kilbeggan Distillery followed by a visit to the 7 Wonders of Fore.