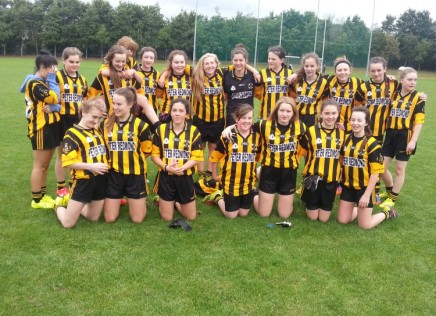 Two of the girls football teams had brilliant wins over the weekend to reach the finals of the respective championships.
Later on Saturday afternoon our Under 13 girls travelled to Ballyboughal for their championship semi-final where after a great afternoon's football they emerged victorious to reach the championship final.
At 5pm on Saturday our under 11 girls gave a great performance when they edged out a very strong Scoil Ui Chonaill in a thrilling game.
On Sunday lunchtime our Under 14 girls gave a very polished performance to see off the challenge of Beann Eadair to reach the final of their Championship.
On Saturday morning with our academy which was attended by over 40 girls aged 4-6 years with 12 coaches in attendance.
Under 13
Ballyboghal ………3-03
Naomh Mearnog 5-11
In a exciting game the u13 ladies football team produced there best game of the season in the Div. 4 Cup Semi Final. Maria Kelly and Ella Griffin got on top at midfield and provided a stream of quality ball for a forward line led by the impressive Katie Flanagan. Strong in defence with Sophie Brennan a rock at full back and Ruby Smith locking down the half back line assisted by Rosie Doyle and under11 Ciara Mullin. Second half goals from Roisin Hughes and Aoibheann Crean Lynch sealed a great win.
An excellent performance from the girls. Scorers were Katie Flanagan 2-08, Roisin Hughes 2-00, Aoibheann Crean Lynch 1-00, Maria Kelly 0-02, Ella Griffin 0-01.
Panel Katie Flanagan (Captain) Alexandra Kenny, Siobhan O'Leary, Sophie Brennan, Eimear Kenny, Ciara Mullen, Ruby Smith, Rosie Doyle, Ella Griffin, Maria Kelly, Niamh Browne, Jessica Burke, Ellen Daly, Aoibheann Crean-Lynch, Roisin Hughes, Niamh Duggan, Carla Brogan, Florence Okodje.
Under 14
Naomh Mearnog 5-9
Beann Eadair 1-2
The successful weekend continued on Sunday when the Under 14 girls recorded a very good victory over Beann Eadair. This was a very good performance by the girls and despite an early threat from the opposition when Katie Flanagan made an outstanding save and by the half time break the girls had only conceded 1 point to the Howth girls. In the second half the Naomh Mearnog girls faced a very stiff breeze and they showed great control and composure to very quickly put the game beyond reach and advance to the final. This was a very good team performance and their work in training is showing results.
Panel Katie Flanagan, Rosie Doyle, Orlaith Freaney (Capt), Hannah Collins, Megan O'Connor, Niamh McLernon, Ruby Smith, Ciara Holland, Maria Kelly, Claire McGowan, Emma Tuthill, Ella Griffin, Tara Daly, Amy Kavanagh, Leah McElroy, Caitlin Dempsey, Amy Keegan, Niamh Browne, Jessica Burke, Rebecca Herssens and Ellen Daly.
Our Under 15s girls are in the Shield final and we look forward to them continuing their success.
Our Under 17 girls semi-final was cancelled at the request of St Monica's.